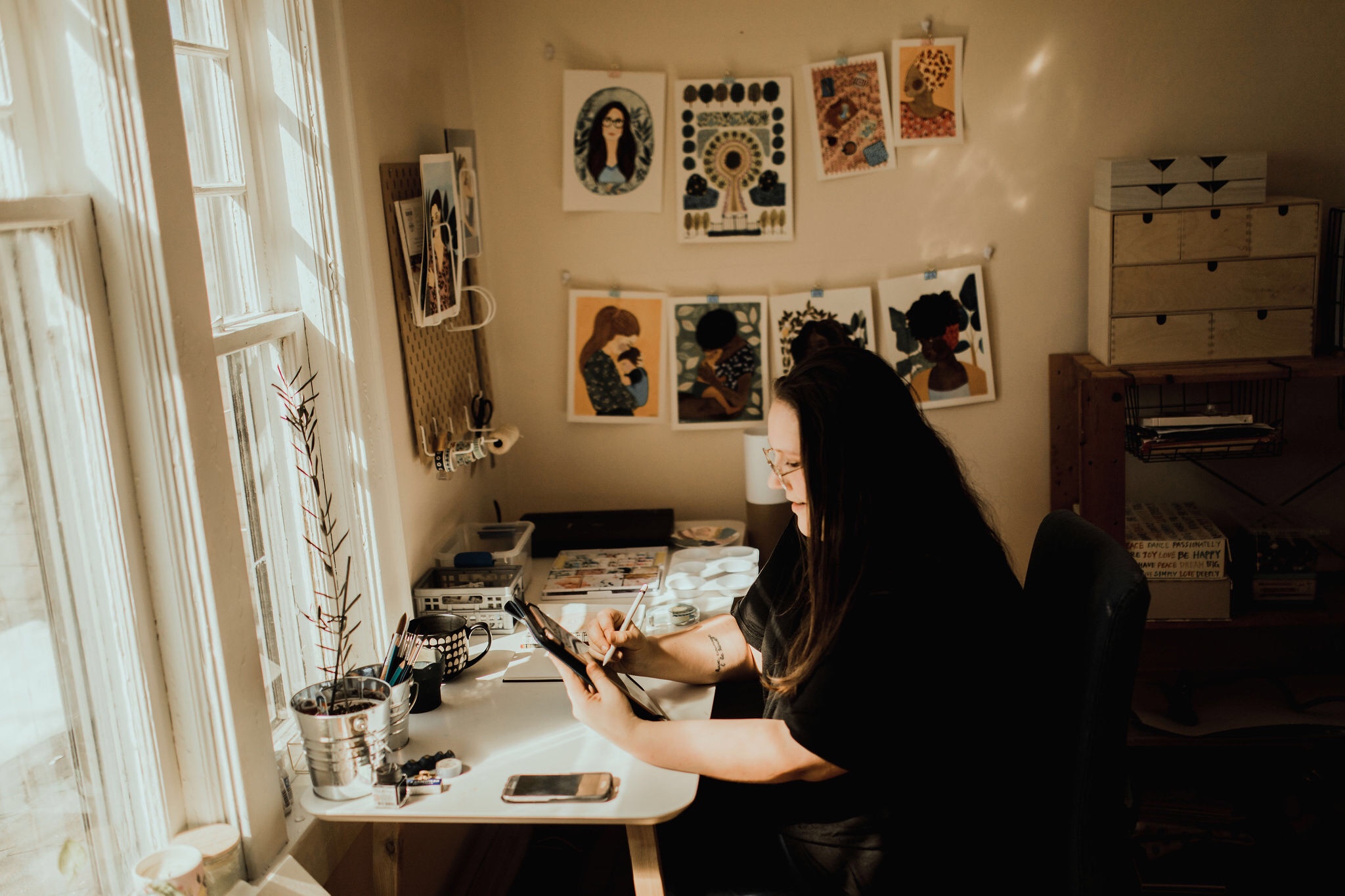 I create engaging visual tools to help you set your product or service apart and leave a lasting impression on your clients- and their lives.
Think about the stationery tools you use each day: Day Planners, Calendars, To-Do Lists…
Most of them have us scheduling our lives to the minute, with the false expectation of "productivity".
If I cross 10 things off of my To-Do list today, that means I've had a productive day, right?
But productive for whom?
How do you feel after you get home from a long day of work? Does that feeling of productivity last?
Or do you find yourself coming home, only to find yourself exhausted, with no patience, and a completely drained battery?
Is your work fulfilling you or are you fulfilling your work? There's a big difference!
Burnout is one of the leading causes of work absense

Having custom, one of a kind designs and illustrations help you stand out & have a unique brand presence.
But that's just one of the many benefits.
We process visual information 60,000x faster than text.
Adding one of a kind illustrations to your brand will help you:
1) Capture the attention of your ideal client & stand out.
2) Help highlight important information about your brand, product or services.
3) Add extra value to your product or service and leave a lasting impression that your clients will not only remember, but recognize.
4) Show your clients that you care about going that extra mile.
5) Show that you're not only invested in your product or service, but also invested in your community by supporting small businesses.
And more...
Have a project you've been dreaming of? Send me an email! I'd love to discuss it with you (perhaps over a coffee?)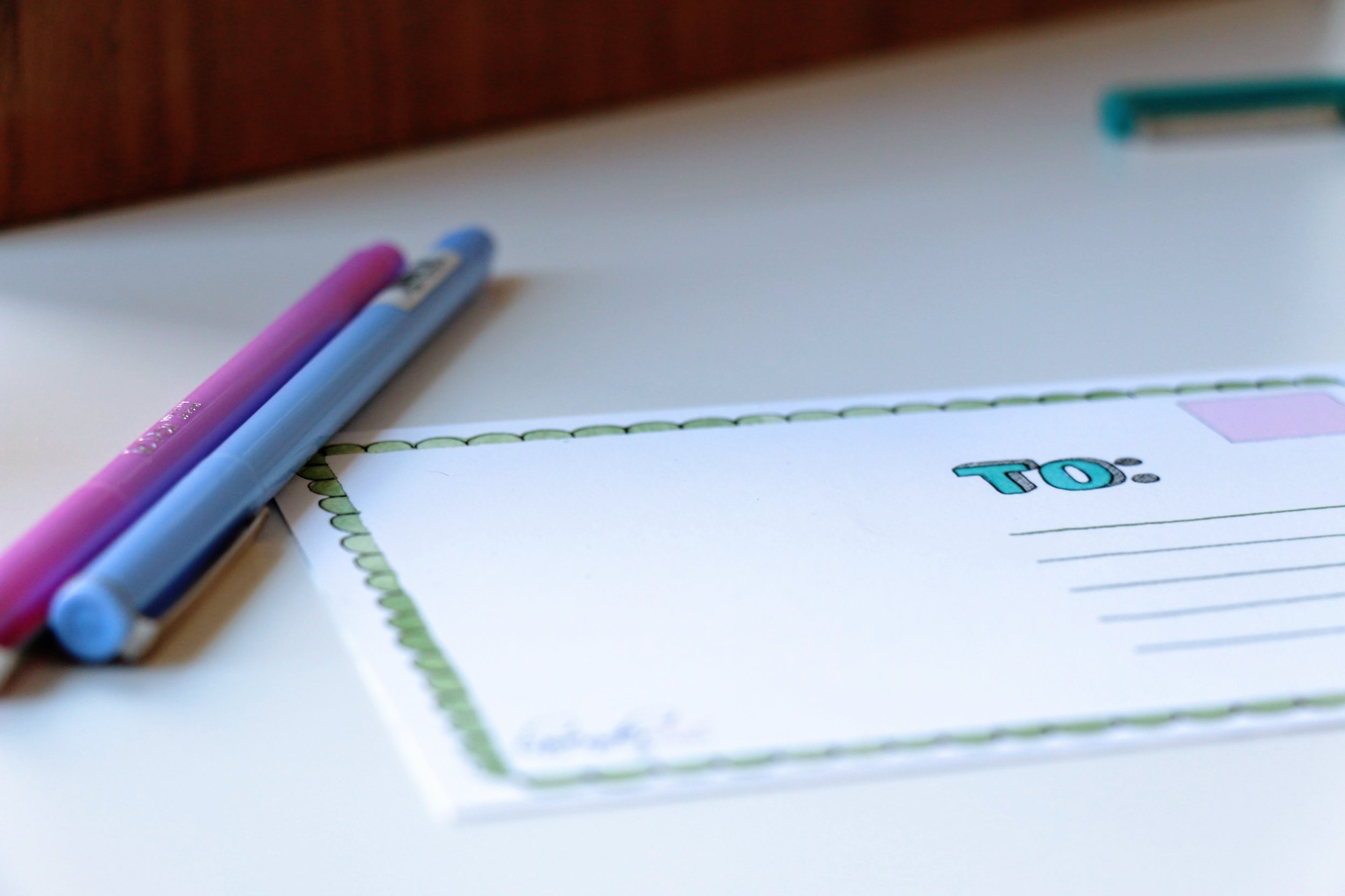 Some ways I can help bring your brand to life:
-Custom Illustrated Business Cards
-Custom Illustrated Postcards, Product Cards, Menus or Service Lists
-Custom Illustrated Worksheets or Workbooks
-Custom Illustrated Gift Certificates
-Custom Illustrated Greeting Cards
-Custom Illustrated Book or Notebook Covers
-Custom Illustrated Packaging or Envelopes
FREQUENTLY ASKED QUESTIONS
What sets you apart from other illustrators?
All of my designs are done by hand with very minimal digital work. The only digital work I do to your piece is touching up small areas and adding in smaller text where necessary! This results in my work having a very "hand drawn" feel- Because it's exactly that!
When choosing an illustrator to work with for your brand, it's so important that you take a look at their current work to ensure their style is similar to what you envision! My style of illustration has often been described as whimsical, approachable and charming.
What can I expect?
You will be involved in the process from day one! We start by chatting about your business, your services or your products, and what you envision.
Once I have a good understanding of your vision and your business needs, I do some research pertaining to your brand to truly understand your ideal client and platform.
I then draft up preliminary concept designs for your input and thoughts. You receive updates throughout the whole process so that we can make changes where needed!
Once your pieces are complete, they are digitized and made print-ready!
Can I use my own printer?
Of course! If you have a local printer you've been using, you are more than welcome to stick with them! If you choose to use your own printer, please note that you will be responsible for informing us of their print specifications. The benefit of letting me handle the printing is that I can ensure print quality and have your product signed, sealed & delivered straight to you, without you having to worry about it!